Agile Marketing
And: How to Sell "Agility"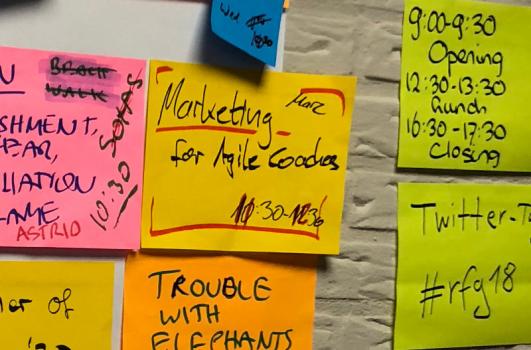 I am no sales person. When I was 12, my granny gave me a heap of clothes to sell at a local yard sale. My booth became one of the best frequented spots on the market. No wonder - I gave away most of the stuff virtually for free. My granny was a little shocked about my low revenue. Maybe I could have sold the camel hair coat for more than a Deutschmark?
Even as a freelance coach and trainer, I never valued the maximization of my income so much. I do not have exaggerated requirements for my standard of living. As long as I do not have to worry about money, I am just fine. No need for a large house, expensive watch or tailored suit. Thus I have never cared a lot how to sell, market or present myself or my products.
But times have changed. There are quite a few training or consulting vendors, the attribute "agile" has been attached to anything in need of an enhancement or reinvention. As DasScrumTeam, we need to consider how to distinguish ourselves. And marketing itself has become "agile". With a certification of course.
I have not felt very comfortable about that. Why do he have to praise something, that is already good? Marketing and sales have been appearing almost shady and dubious to me. Value should be created and accepted - not discussed. But I was wrong. From my own experience, I already understood that a good idea alone is not enough. The example? Agile work itself.
Marketing and sales are not done for us, when we have successfully convinced a client to hire us for training or coaching. It would be to nice, if we just had to do our job - and everybody would follow. We have even used a marketing instrument to talk about this phenomenon: the marketing adoption curve.
Just as we tend to accept new technologies and products in different paces, we are also not always open to new ideas and changes in our work environment. Which by the way applies to trainers and coaches as well. In my case it has been the topic of "marketing" itself, that had caused a lot of resistance in me. I am a marketing laggard, or representative of a late majority that accepts new things only, when it ran out of counter-arguments.
Not that I haven't done marketing myself. For example: Scrum. I have worked on many translations, talks on various conferences, social network postings. Or I was advertising for more agility in general, the path to agile coaching, a humane and productive world of work, in numerous classes and workshops. I just had not realized how much I could benefit from opening up to the topic and tools of "marketing".
I do see the marketing profession differently now. There is a lot to learn, and much to integrate. I am glad that our DasScrumTeam partner Kai has set his personal focus on the connection of new ideas or products and people. This will fill a gap in our effectuation between creative development and interactive delivery. Marketing in my perspective is the catalyst for the exchange of value.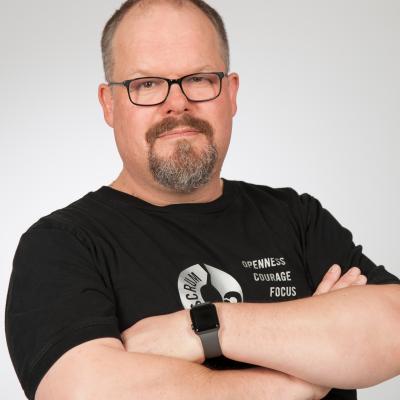 About the author
Andreas Schliep
Andreas Schliep is a founding member and executive partner of DasScrumTeam. He is a Scrum coach and trainer. He studied at the technical university of Bremerhaven, and worked as a software developer, project manager, team lead and group lead. Andreas has worked with Scrum since 2003. He became a full-time Scrummer in 2006.
Since then, he has helped to introduce and improve Scrum and agile practices in numerous companies all over the world. His favorite topics are quality management and scaling.
Experienced ScrumMaster, Product Owner, Coach and Trainer
Introduced Scrum at WEB.DE
Coaching of internationally distributed teams
Transition from RUP to Scrum at UOL Brazil
Scrum Trainings and Coaching in Germany, Switzerland and Austria
Always up to date with the DasScrumTeam newsletter.
The best in terms of Scrum. Once a month. Every month.