Agility, Scaling And Employee Satisfaction
Since the last Global Scrum Gathering I have worked with a number of Scrum trainers and experts on principles for scaling agility. We are now so far that we would like to share the results. In this blog entry I'm going to look at our thoughts on employee satisfaction in more detail.
In product development staff offers the greatest potential for improvements. Satisfied employees lead to higher productivity. Therefore, it is important to create a working environment that ensures a high level of employee satisfaction.
What does employee satisfaction have to do with scaling agile approaches? The employees should naturally feel comfortable, their lives and work should be balanced, frustrating and wearying overtime should be avoided - all that is well known and firmly anchored in the companies.
It is true - as long as it does not come to the crunch:
the offer, which should necessarily be out today.
the feature, without which we can not deliver,
the exception, which we want to do only this one time
But won't the employees be automatically more satisfied if we introduce agile processes? Yes and No! The employee-oriented principles are an important pillar of the Lean and Agile building. A formalistic overfill with "agility" doesn't make employees more satisfied - but the constant preoccupation with their satisfaction. A beautiful example is Crisp happiness index. Which company would dare to continuously determine the happiness of its employees - and to react appropriately?
During the last years a few extreme "Agilists" have spread and deployed an interesting, but dangerous assumption: for our agile projects we need from the very beginning the best, most motivated people. Only then are we truly successful. Yes, there were even employee auditions in some Scrum implementations. In its essence, I can even understand this approach. Who does not want the best possible team of competent, enthusiastic, agile super employees? Too bad that the best people are already working somewhere else, and one has to take the second best ...
No, that won't help. The human-centered work is based on the energy that arises from the differences of the individual team members and develops itself in the organization. For this purpose it is necessary to promote the motivated ones, to challenge the faint-hearted and to listen to the silent ones. So that everyone in the company recognizes his place in the overall picture - the vision - and gladly gives his best.
In some companies currently introduction of agile processes takes place in parallel with initiatives to increase employee satisfaction, while the people involved often have little or nothing to do with each other. Whereas agility promotes satisfaction and satisfaction promotes agility. The human-centered principles of employee satisfaction are not an attachment, but a fundamental part of scaling agility in an enterprise.
Therefore, we propose the following principles as cornerstones of agile scaling:
Authorize and empower your employees

Employees need not only technical skills but also the ability of mutual guidance and working independently. Only then can teams make good use of the freedom given to them for the benefit of the organization and the customer. You also need the authorization to work independently and self-organized.

Create independent, cross-functional teams

Teams are the most effective way of organizing complex work. The principles of the interaction of individuals within a team can also be applied at the level of several teams. Teams must be able to communicate with each other independently and without artificial barriers. The company's mission is to provide the necessary goals, structures, open spaces and support.
More ScALeD thoughts, this time on global optimization, formulated by Markus Gärtner can be found here.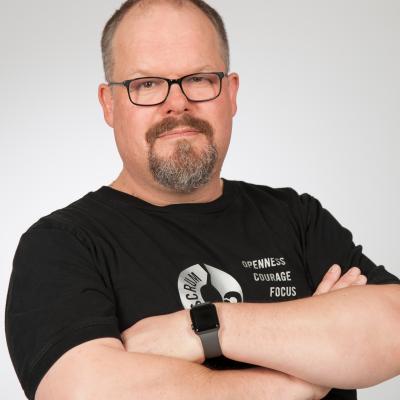 About the author
Andreas Schliep
Andreas Schliep is a founding member and executive partner of DasScrumTeam. He is a Scrum coach and trainer. He studied at the technical university of Bremerhaven, and worked as a software developer, project manager, team lead and group lead. Andreas has worked with Scrum since 2003. He became a full-time Scrummer in 2006.
Since then, he has helped to introduce and improve Scrum and agile practices in numerous companies all over the world. His favorite topics are quality management and scaling.
Experienced ScrumMaster, Product Owner, Coach and Trainer
Introduced Scrum at WEB.DE
Coaching of internationally distributed teams
Transition from RUP to Scrum at UOL Brazil
Scrum Trainings and Coaching in Germany, Switzerland and Austria
Always up to date with the DasScrumTeam newsletter.
The best in terms of Scrum. Once a month. Every month.